Origins
The Scout Sections formed an early part of the Auxiliary Units structure. These were units of regular soldiers, each commanded by a Lieutenant, whose role was to train the Home Guard patrols of Auxiliary Units. They arose out of the experience of XII Corps Observation Unit, under Captain Peter Fleming. He had arranged for a section of Lovat Scouts to help him, thanks it seems to his brother Robert who was an officer in that unit. Recruited from the Highlands of Scotland, they included experienced ghillies, skilled in stalking, who had also trained snipers during the First World War. Some of these Lovat Scouts would remain in Kent for most of the existence of the Auxiliary Units.
Organisation
The first War Establishment for the Scout Sections, dated 26th July 1940, provides details of the makeup of these units, with a sergeant, corporal, 8 other ranks, cook, a batman/driver (for the officer) and driver IC (internal combustion - as opposed to waggon driver), making a total of 14 including their officer. The men were typically drawn from regiments that recruited locally to the area concerned, though the men were not necessarily local. The men were drawn from Regimental Depots, to avoid accusations that the best men were being poached from front line units. Major Oxenden wrote that initially officers and men "were chosen for their youth and toughness". However he also suggests this was a mistake as it meant the officers were too young to take over from the Intelligence Officer (IO) if he left and the men did not make good teachers for what were largely older Auxiliers. This was rectified with later recruits.
Originally there were 20 Scout Sections planned across 10 areas. By November 1940 there were 14 areas, as some of the original areas were divided. The same 14 man section structure seems to have existed until January 1943, by which time there were 26 sections across a peak of 22 areas. Some areas, such as the Scottish Borders, apparently never had a Scout Section. There are no reports of any operating in South Wales, Herefordshire or Worcestershire. Use the menu at the top of this page to read more about individual Scout Sections across the country.
Training
Writing in late 1944, Major Oxenden records that it was intended that Patrols would be trained up over a three month period, after which they would train the Home Guard Patrols by means of lectures, demonstrations and night exercises. The Scout Section soldiers were sent to Coleshill House to take part in their own dedicated training courses. Fifteen courses were run for complete Scout Sections and these are believed to have been longer courses (two weeks) than those provided for the Home Guard Patrols, which of course had other jobs to hold down. After the first sections were trained, there were then occasional courses for new Scout Section recruits, with eleven run over their existence, which seems more frequent than the twice yearly referred to by Oxenden. There were also five courses run specifically for the Scout Section officers. The latter are thought to have been a week long, with Kent officer Lieutenant Sydney Hudson describing one such course in December 1941. He travelled to Coleshill House and at the end of the training each man had an interview with the Commanding Officer.
This is thought to be a photo of Scout Section officers attending a course at Coleshill House in 1941. Lieutenant George McNicoll is far left in the front row, Lieutenant William Ashby is second from left and Lieutenant Hugh Palliser on the far right. Behind him is Lieutenant Victor Gough. The others are currently unidentified.
Major John Gwynne's SOE file includes a letter that records a competition between the then 24 Scout Sections, where his two Sussex sections came first and second. It was described as testing general operational efficiency by night and day.
Armament
The War Establishment lists the armament of each Section as 12 pistols .38, 4 rifles .303 (Sniper), 1 Light Machine Gun (Bren) and 2 Machine Carbines .45 (Thompson). Presumably 2 of the men didn't get pistols, perhaps the cook and batman/driver? The soldiers were also issued with fighting knives.
Stores and Equipment
As well as the standard uniform and web equipment, there were additional issues of compasses, binoculars and rubber boots. They also received special smoked glass goggles for night training during the daylight hours. To help with Operational Base (OB) construction, the section was issued with a carpenter's tool chest, shovels, a pick and a felling axe. For transport there was a 15 cwt lorry and a 2-seater car for the officer, with 10 folding bicycles for the men. More unusual was the issue of a recce boat and assault boat to each section, and Bill Webber of Firle patrol recalled their use.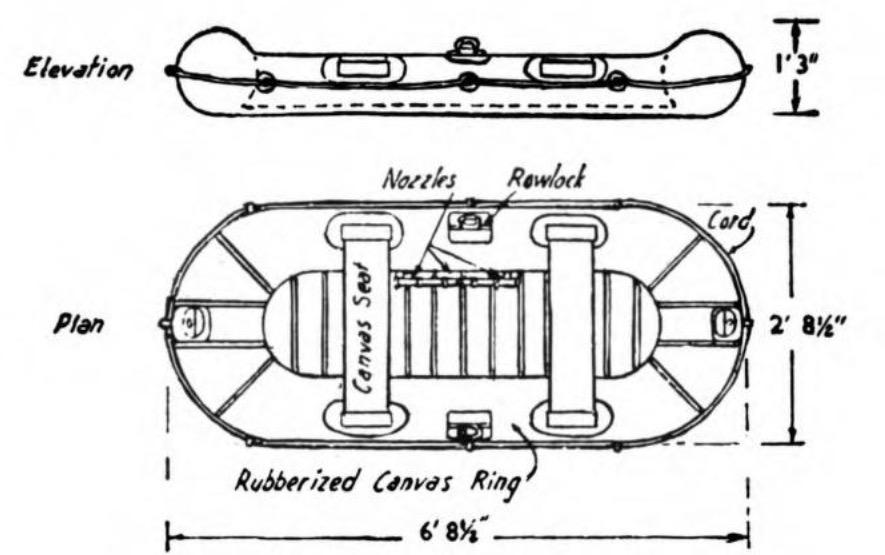 The reconnaissance boat - a very small two man rubberised canvas dinghy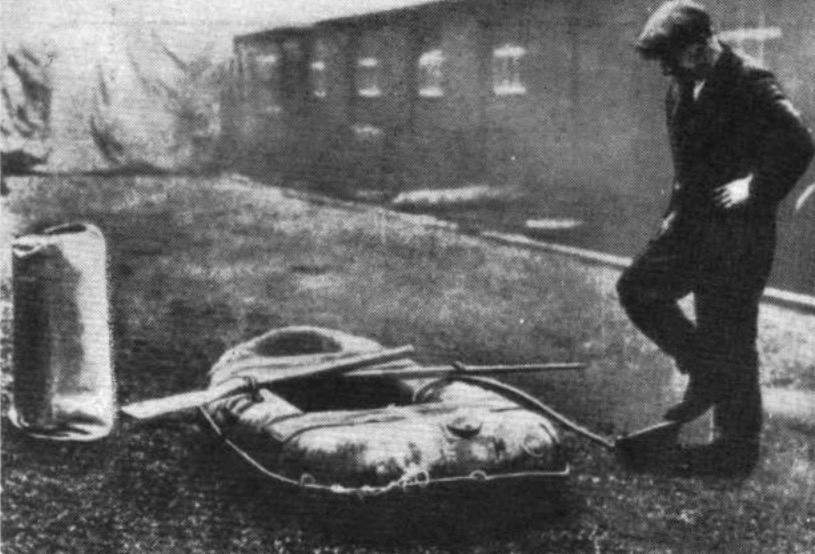 A surviving document about the issue of No 17 Wireless sets to IOs mentions that these will be used to keep in contact with the Scout sections. This suggests that Scout Sections were issued with these sets already. Only one Scout section is known for certain to have used a wireless, namely East Norfolk Scout Section.
Operational Bases
Oxenden also refers to the post-invasion plans for the Scout Sections. They were to split into two and each Patrol would go to ground in its own OB. The sections were to build their OBs during the first three months after formation. In practice a number of Sections carried on digging OBs for Home Guard Patrols in the absence of other labour. This of course means that each Scout Section normally had two OBs.
The Scout Pool
By January 1943, Auxiliary Units, like the rest of the Army, was under pressure to make savings in manpower, to help bolster front line fighting forces. With invasion increasingly unlikely, the Scout Sections were a clear target, with the Home Guard Patrols now fully trained. Initially a reduction of 18 Scout Sections was discussed, leaving 8 remaining, though it is not clear that this happened. For example in Sussex and Norfolk, it seems that the two sections markedly reduced in size with those remaining forming a combined section. The revised War Establishment of 30th April 1943 refers instead to a Scout Pool of 133 men (9 officers, 20 Sergeants, 20 Corporals, 8 Lance Corporals, 46 privates and 30 RASC drivers). Possibly this meant in practice that around 6 men remained in each area as there is little evidence of a nationwide pool approach, photos from this period showing men in their original localities. Certain areas appear to have operated single combined sections, whereas others, depending on geography, remained separate in their sub-areas. This number was further reduced by the end of November 1943 with the revised War Establishment listing 59 men (20 sergeants, 20 corporals, 8 lance corporals, 5 RASC Drivers IC with the rest privates). This seems to have involved around four men staying in each area, judging by the Norfolk experience. In April 1943, the Scout Section Officers had been reduced to nine, with the role being finally removed entirely in November 1943.
Other Regular staff
The Scout Sections were separate from the IO's HQ, which usually had a sergeant clerk and RASC driver for the IO's staff car. Some areas had a Royal Engineers corporal attached though they seem to have worked more closely with the Scout Sections.
Stand Down
Oxenden records that almost all the regular personnel were withdrawn in July 1944, once the D Day invasion was clearly a success. This seems to have included any remaining Scout Section personnel, leaving just a handful of IOs who were older and in lower categories of fitness to supervise the Stand Down of the Home Guard patrols later in the year.
On Active Service
Many of the officers and men of the Scout Patrols went on to active service with various Special Forces. These included the Commandos, Chindits, SOE and Phantom (GHQ Liaison Regiment). It is known that the SAS specifically recruited those who had served in the Scout Sections because of the training they already had in operating behind enemy lines.