The Auxiliary Units were issued with a huge range of weapons, explosives and equipment. Some items they received even before the Army had been issued with them, and many were also later issued to the SOE, the SAS, the French Maquis and other resistance groups.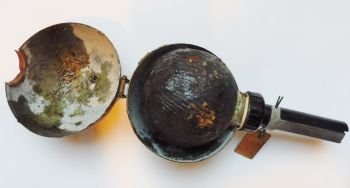 Firearms and Ammunition
Knives and Coshes
Explosives
Fuses and Detonators
Booby Traps and Timers
Incendiary Devices
Grenades
Badges and Insignia
Books and Pamphlets
Wireless Equipment
Messages and Codes
Personal Equipment
Uniforms
Vehicles
Explore many of these items on this page. There is also a downloadable fact sheet.
In Dec 1942 the Patrols were issued with "Auxunit Mk. 2" kit. Kent was the first to receive these on 8 Dec and there were 15 issued per Patrol. Each Auxunit contained; 24 Copper tube ignitors, 24 Autumn Crocus (if available), 1 crimping tool, 6 striker boards,1 tube Vaseline, 6 spools of trip wire .032", 3 spools of trip wire .014", 8 coils tape, 5 pairs of small magnets, 18 pocket time incendiaries, 12 6 x 1-1lb incendiaries, 70 lead delays, 50 foot instantaneous fuse, 240 foot Cordtex, 100 detonators, 20lbs Polar Gelignite, 1 sandbag, 12 pull switches, 12 pressure switches, 48 foot of safety fuse Mk. 2 Bickford. Two of the "old" Auxunits were to be retained for training but a order is made that Plastic should never be used for training.