Major RMA Jones, Commanding Officer of the Royal Signals within Auxiliary Units, produced a report for Brigadier RE Barker, CBE on 28th June 1944. Attached to the report was a map of Great Britain, showing the approximate locations of the outstations and instations in the Special Duties Radio Network. This map survives in file WO199/1194 at The National Archives. It provides the only comprehensive summary of the Network and forms the basis of our presentation of the information. The suboutstations were omitted for clarity at the time. 
New for 2021 we have created an updated PDF of the radio network, as we know it. Click to download.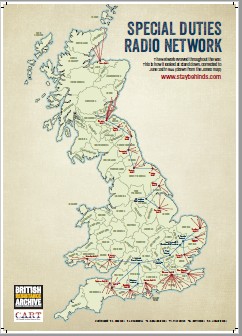 Below is a copy of the original Jones Map annotated by CART with the Networks area numbers as used on this site.