Information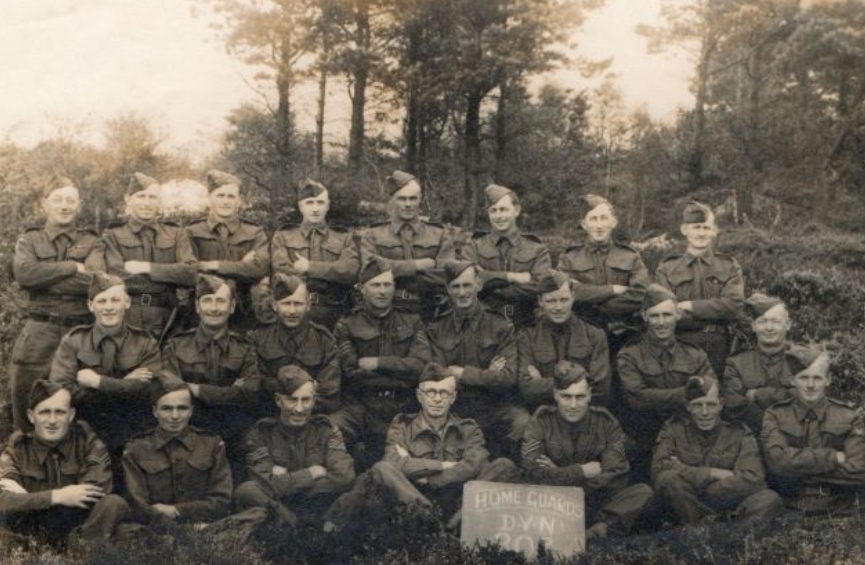 Back Row- left to right; Bill Leyman, Ernie Glover, Unknown, Ernest Mummery, Jeff Goodridge, Jim Burch,  Cecil Hatherley, Tom Weeks
Middle Row; Jack Addison, Reg McClaughlin, Herbert Thorp, Fred Goodridge, Fred Mortimore, Albert Trapnell, Henry Blackmore, Gilbert Bright
Front Row; Arthur Carpenter, Reggie Penaligion, Cecil Gilpin, Lieutenant Alfred Eardley, Theodore Manning,  Eddie Goldsworthy, Norman Rowe
The Auxiliers in the three Patrols that make up Group 5 seem to have early joining dates of around June 1940 or later of October 1942. It appears two early Patrols were split into three with new recruits added to each Patrol in 1942.
All the Patrols of Group 5 (Dawlish, Teignmouth and Starcross) seem to have worked and trained very closely together. Looking at the names and addresses on the Nominal Roll it is almost impossible to make three distinctly separate Patrols. Each Patrol therefore, has been complied by their group photograph where available. This may have lead to errors as to which Auxilier is recorded in what Patrol.
An (unrecorded) early member of the Auxiliary Units in the area was Major W. Arnold Riley (MM) later to be in command of "B" Company (Dawlish) 9th (Newton Abbot) Battalion Home Guard. He appears to have remained in contact with and supportive of the Patrols as he was a guest at their first reunion dinner at The Anchor Hotel in Kennford in 1946.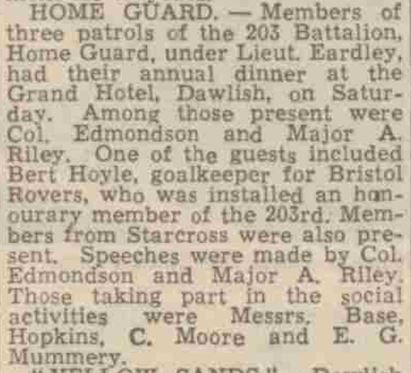 A later reunion in December 1950 has Riley and Devon Intelligence Officer, by then, Colonel Edmundson as guests of honour. Footballer, Bert Hoyle, ex Exeter City and present (1950) Bristol Rovers was made an honorary Auxilier. At present it is unknown who Messrs. Base, Hopkins or Moore were or how Bert Hoyle was connected to the Patrols. (See Western Times newspaper article)
A surprisingly large number of Group 5 were awarded the Defence Medal after stand down and it is rumoured that this was due to lobbying by Major Riley.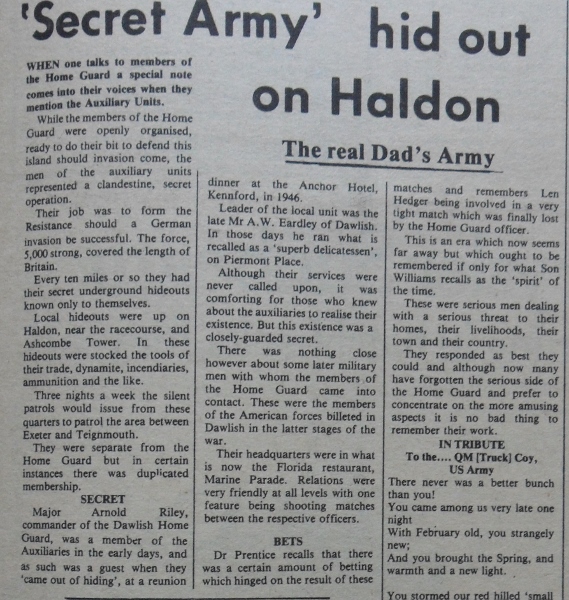 The Patrols were in the paper again in 1977 giving suggested OB sites.