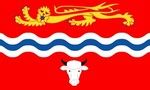 Overview
Lists recorded by Major Malcolm Hancock based at Coleshill House around September 1944 show Herefordshire was Group 2, and formed part of area 19 which also included Worcestershire (Groups 1a and 1b), Monmouthshire (Group 3) and latterly from 1943 part of Glamorganshire (Groups 4a and 4b).
There were some changes in Patrols and personnel over time, and the Group structure did not exist earlier in the war, but it provides a useful way to look at the Patrols.
The Herefordshire nominal roll is recorded in Patrol order.
Herefordshire, Worcestershire and Monmouthshire Patrols were given Biblical code names. It is assumed this was an initiative of Todd to prevent the use of Patrols locations names. 
Headquarters
The first Headquarters that is known is the home of the second Intelligence Officer, Captain Sandford at Eye Manor, near Leominster. Presumably it moved when he did and from at least the 10 August 1943 it was at Holmer, Hereford.
From 27 September 1944 Herefordshire came under Area 4 for its administration with its Headquarters at East Street, Ashburton, Devon.
Intelligence Officers (IO)
Scout sections
No Scout Section is known to have operated in Herefordshire.