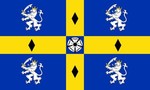 Overview
Lists recorded by Major Malcolm Hancock based at Coleshill House around September 1944 record County Durham was grouped together with North Riding and was Area 6.
Groups 1 and 2 were in North Riding and Groups 3 and 4 in County Durham.
Headquarters
The County Durham Auxiliary Units used several sites as Area Headquarters. They were all chosen by the Area Intelligence Officer Captain (later Major) Guy Atkinson.
Early in the Auxiliary Units set up he managed to find an area in Wynyard Hall to use. Though this was quickly taken away when the military requisitioned the Hall.
He next opted for Danby Lodge, Danby a fairly central location for the patrols he was looking after. At this time he had the County Durham patrols and most of the North Riding of Yorkshire patrols down to Bainton. This new site at Danby was also used by Captain Anthony Quayle Intelligence Officer for Northumberland Auxiliary Units. After a reshuffle of the Areas Captain/Major Atkinson was left with the County Durham patrols only. The North Riding Auxiliary Units were more or less left as a separate group.
Two other sites were used by Captain/Major Atkinson, one a house in Whitby used for meetings and another with underground facilities at Cocken Hall near Durham City. This was used for some training and may have been Atkinson's chosen site if the Germans had landed.
Captain/Major Atkinson also had links with the Green Howards Regiment and held weekend training camps at a futher H.Q. at Heatherdene, Castleford.
Intelligence Officers (IO)