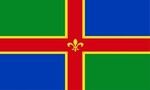 Overview
Lists recorded by Major Malcolm Hancock based at Coleshill House around September 1944 show Lincolnshire was Area 8 which consisted of seven Groups made up from thirty Patrols.
There were some changes in Patrols and personnel over time, and the Group structure did not exist earlier in the war, but it provides a useful way to look at the Patrols.
The Lincolnshire nominal roll is recorded in Patrol order though only the Auxilier's surname and initials are recorded. This has made it difficult to positively identify individuals in other records.
Headquarters
The earliest Headquarters was at Wellingore Hall, but within a few months it moved to Blankney Hall, Lincoln. By June 1943, it had moved again to Dalby Hall near Spilsby. On 27th September 1944 Lincolnshire came under the Area 2 Headquarters at North Bar Within, Beverley.
Intelligence Officers (IO)