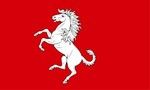 Overview
Kent Auxiliary Units were initially known as XII Corps Observation Unit which was their original cover name.
The first mention of them in the War Diary of Military Intelligence Research (TNA ref HS8/263) is 25 May 1940 where it states 'Captain Fleming attached to Home Forces for the purpose of training L.D.Vs etc in fighting behind the German lines in case of invasion of this country.' The next mention, 17 June 1940, and what appears to be the formation of Auxiliary Units, states; 'Colonel Gubbins to be in charge of Auxiliary Units for Home Defence with Major Wilkinson as G.2. Much the same methods as Captain Fleming is using in Kent with his little Headquarters.'
They were officially renamed Auxiliary Units, Kent Area, Home Forces from 1 Aug 1943. In December 1943, 203 (GHQ Reserve) Battalion, the Kent Auxiliary Unit's military designation at the time, had a mustering fund of £2,000 in an account at Lloyds Bank, Ashford. 
The Kent Auxiliary Units Patrols can be divided into 9 Groups from lists recorded by Major Malcolm Hancock based at Coleshill House around September 1944 though some known Patrols were disbanded before this was recorded. There were some changes in Patrols and personnel over time and the Group structure did not exist earlier in the war, and later Patrols moved between groups, but it provides a useful way to look at the Patrols.
The Kent nominal rolls are a simple list of names within an area and a A-Z address book. The only way to identify which Auxiliers were in what Patrol is by their home address. Where Patrols are close together there maybe some question over what Patrol they were part of.
The first Patrols set up by Peter Fleming all had animal names as code names. Group code names included Brass, Copper, Diamond, Flint etc with Patrol code names of Squirrel, Maggot and Kangaroo etc. In Feb 1942, they were replaced by fruit and vegetable names.
Known code names given to Kent Groups but as yet unable to be allocated to a location are: Apple Group - with Patrols named Artichoke, Beetroot, Endive, Quince and Asparagus. Cheery Group - with Patrols named Cabbage, Celery, Turnip and Cauliflower. Elderberry Group - with Patrols named Parsley, Dandelion, Potato and Cucumber. Hop Group - with the later moved Swede and Pineapple Patrols but also Parsnip Patrol. Lemon Group - with Radish Patrol. Melon Group - with Patrols named Garlic, Mulberry (a new Patrol in 1943) and Leek. 
County Patrol competitions resulted in the Patrols being graded into 3 sets - A, B and C.
Headquarters
The same Headquarters at The Garth in Bilting was in use from the earliest formation of Kent Patrols until closed down on 26 September 1944. The Airship Hole at Godmersham Park was utilised as a general bolt hole for all the local resistance. After that Kent was administered from Bishops Waltham as part of Area 3.
Intelligence Officers (IO)
Scout sections
The Kent Scout Sections were the model for the rest of the country. Known as XII Corps Observation Unit, they were in existence before Auxiliary Units was properly formed. Colonel Gubbins referred to Regular Army units in Kent in a paper, written for Prime Minister Winston Churchill, describing how Auxiliary Units were being set up. This meant that there were some differences in the arrangements in Kent compared to other areas.
The first Scout Section was formed from the Lovat Scouts, which recruited in the Highlands of Scotland. It is thought that this came about through Peter Fleming seeking help from his brother Richard, a Captain in the Lovat Scouts. Peter Fleming later wrote (The Spectator 4 April 1952) "I found myself charged with the duty of organising some sort of guerrilla force which would allow itself to be overrun by the invaders and thereafter harass them to the best of its ability. It was a sensible idea and was shortly afterwards taken up in a big way by Home Forces and became a small but integral feature of the nation's strategy against invasion. I was given a small detachment of Lovat Scouts, two leading aircraftmen with portable wireless sets and a sapper subaltern, the formidable Mike Calvert....My own force was based in a huge tract of woodland on top of a ridge and we had not been there very long before I procured, at the tax payers' expense, two large bows and a supply of arrows and told the Lovat Scouts to learn how to use them."
Subsequently further Scout Sections joined XII Corps Observation Unit. The Lovat Scouts left, leaving behind a couple of instructors, but it appears were replaced by a London Scottish Scout Section in East Kent and subsequently the Buffs, the Royal East Kent Regiment as an East Kent Scout Section. There was also a West Kent Scout Section formed from the Royal West Kent Regiment. In April 1943 a reduction in personnel led to mergers and a single Combined Kent Scout Section.
The picture is also complicated by the presence of a number of "Battle Patrols".