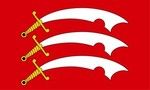 Overview
The Essex Auxiliary Patrols can be divided into 8 Groups, with 33 Patrols, based on a list compiled by Major Hancock at Coleshill House around September 1944.
The Essex nominal roll lists the men by Patrol, with the Patrols grouped by geographic regions. There were some changes in Patrols and personnel over time and the Group structure did not exist earlier in the war, but it provides a useful way to look at the Patrols. There is a list of names for the Patrols compiled in 1942 by Captain Darwall-Smith, alhough the names do not always accurately reflect the geographic area of the Patrol and other names are sometimes known to have been used. The Polstead Patrol (the 34th in this listing) was transferred to Suffolk around 1942.
Headquarters
The initial base for both Suffolk and Essex was The Vicarage, Kelvedon, Essex. As this was home of the father of Intelligence Officer Captain Croft, it is likely that this changed when he left at the end of 1940. By late 1941 it is known that the River House, Earls Colne was in use as the Headquarters. In May and June 1944 a house at 14 Albert Road, Witham was used as a Headquarters, possibly because of the easy acccess by rail for meetings. On 16 June 1944, a combined East Anglian Headquarters was opened at The Masonic Hall, Framlingham. From 27 September 1944, Suffolk became part of Area 2 and was administered from a Headquarters at North Bar Within, Beverley, Yorkshire.
Intelligence Officers (IO)
Scout sections
As Suffolk and Essex were a single area initially, there was only one Essex Scout Section. In April 1943 as part of manpower reductions in the Regular Army component of Auxiliary Units, it was mostly likely halved in size and merged with the Suffolk Scout Section to create a Combined Essex and Suffolk Scout Section, based on what happened in other areas. However, no evidence has been found to confirm the existance of this Scout Section. It appears that for a short period in 1944 there was an East Anglian Scout Section that would travel across the region providing training to Home Guard patrols. Other counties were left with just four men to supervise training, but in East Anglia these appear to have been used together as a unit.