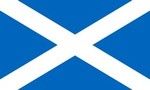 Overview
Borders here includes East Lothian, Berwickshire, Roxburghshire, Selkirkshire, Dumfriesshire, Kirkcubrightshire, Peeblesshire and Wigtownshire. The Patrols are shown as they were in lists recorded by Major Malcolm Hancock based at Coleshill House around September 1944. 
The Borders Auxiliary Units Patrols were set up in 1941, later than many other areas. They were located to cover the roads north at the narrowest point. The strategic aim of the Patrols would be to stop all northbound traffic in the event of a German invasion overrunning England, allowing the British Army to regroup in Scotland and counterattack.
In late 1941 there were 17 Patrols with 3 Group Commanders totalling 177 men, with 4 Patrols still to be formed. 21 OBs had been built already.
By 1944 the Borders was recorded as Area 4, with 21 Patrols divided into 7 Groups, though the numbering indicates there were four at one point.
Headquarters
Captain Forbes set up his Headquarters at Monksford House in Newton St Boswells.
From 27 September 1944 the Patrols were administered as part of Area 1 from the Headquarters at 6 Queen Street, Perth
Intelligence Officers (IO)
Scout sections
Being set up later than the other areas, it is thought that the Borders did not have a Scout Section. We know that a "Demonstration Squad" set up under one of the Scout Section Officers was active in Scotland and this may have filled the gap in the Borders in terms of training and support. Two Regular Army personnel Sergeant Wylie of the Argyle & Sutherland Highlanders with Cpl Stevenson are remembered as training the Patrols in explosives.