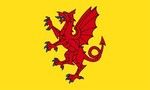 Overview
The 39 Somerset Auxiliary Units Patrols can be divided into 12 Groups by lists recorded by Major Malcolm Hancock based at Coleshill House around September 1944. There were some changes in Patrols and personnel over time and the Group structure did not exist earlier in the war, but it provides a useful way to look at the Patrols.
One of the Somerset nominal roll is a simple A-Z address book. The only way to identify which Auxiliers were in what Patrol is by their home address, so where Patrols are close together there may be some question over which Patrol they were part of.
Somerset Patrols have a Memorial Tree planted at Coleshill Estate.
Intelligence Officers (IO)
Scout sections
The was a North Somerset Scout Section and a South Somerset Scout Section. In April 1943, as part of the reduction in the regular Army component of Auxiliary Units, the Scout Sections were reduced in size. There may have been a Combined Somerset Scout Section after this, though no evidence of its existence has been found to date. In most areas during 1944 the Scout Sections were reduced to just four men to provide training support to the Home Guard Patrols.